The first Saturday of each June, beginning June 5, 2021, is reserved for priestly ordination celebrations in the Jefferson City Diocese at the Cathedral of St. Joseph, 10:00 am.
See Details
Stay connected with our parish by enjoying these latest news items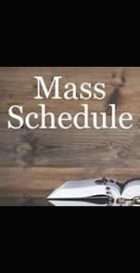 Beginning the first full weekend in January, the Saturday evening Mass will be changing to 5 PM. January 7, 2023 will be the first 5 PM Saturday evening Mass.
St. George will be transitioning from our current ParishSoft online giving platform to Blackbaud. All those that use ParishSoft to complete online credit card payments to the church or school…
In this week's Monday Morning Memo, listen to the latest Podcast from the Diocese of Jefferson City. Three members of our clergy share how they crossed paths with Pope Benedict during his life. Hear how these experiences changed their lives.
Read More